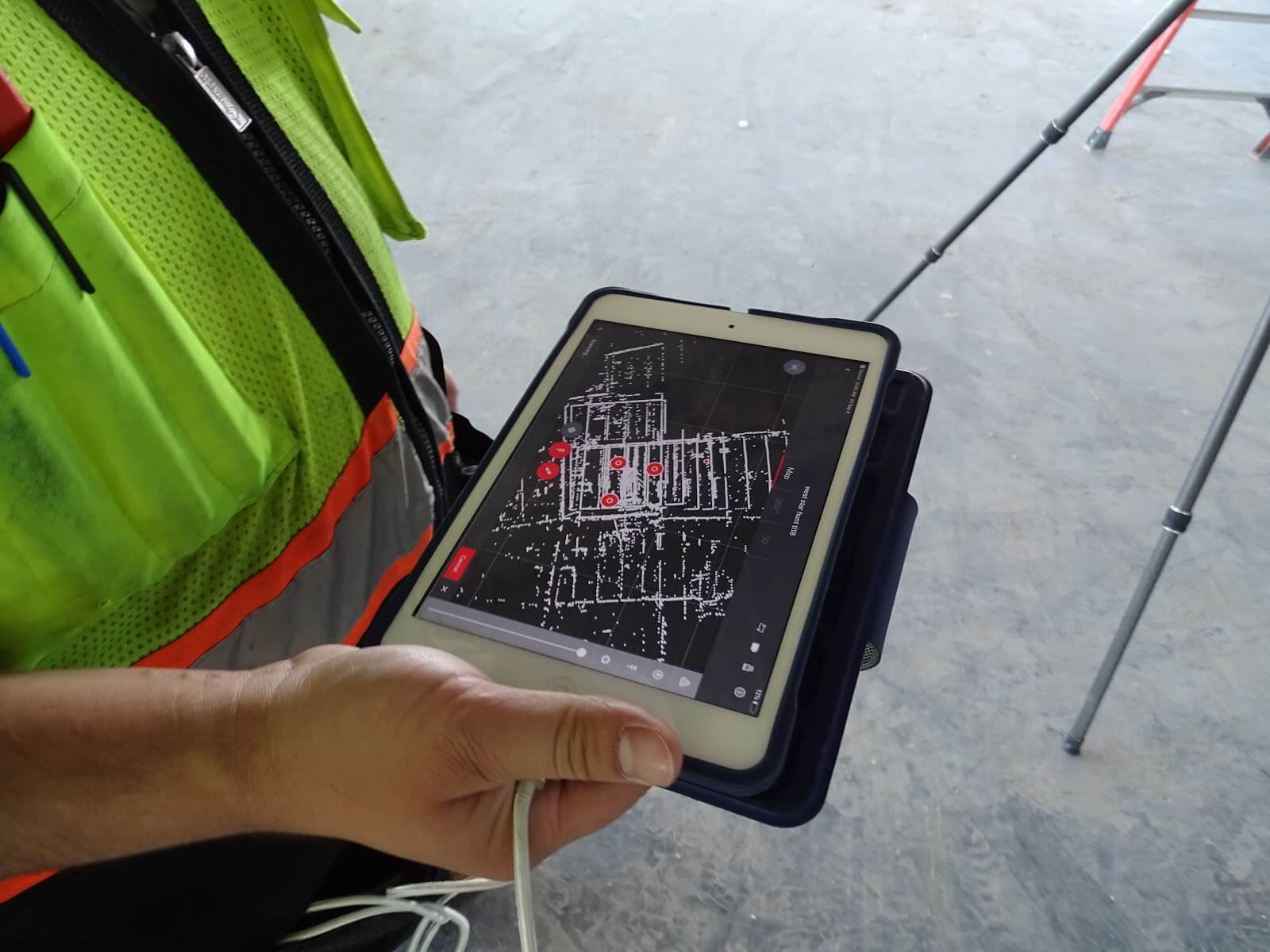 As finishing contractors, we want to ensure every project finishes strong. And a strong finish starts at the beginning with careful planning and preparation based on accurate field measurements.
Used to capture the measurements of an existing structure, accurate field measuring is the foundation of any architectural and design project. You may have heard the saying "Measure twice, cut once" as a reminder of the importance of gathering precise measurements before cutting a piece of wood or fabric, for example. This is even more important when it comes to construction.
Until fairly recently, most field measurement — sometimes referred to as an as-built survey or field observation — was primarily done by hand. Contractors used tape measures to capture interior and exterior dimensions, sketching those dimensions and the building layout on paper as they went. It requires careful, detailed attention to ensure accuracy and can be very time consuming for finishing contractors. But technology is changing this process.
Why does this matter so much? Here's why accuracy matters in field measuring and how technology improves the process for the benefit of both the contractors and, most importantly, our clients:
How We Use Field Measuring
Field measurements are the first step of the process when preparing to install pre-fabricated finishes like fiber cement paneling on existing structures, and accuracy is essential. Any error can lead to panels that don't fit and have to be redone, or even a shortage of material. This can be both costly and time consuming, not to mention frustrating for everyone involved. That's why we put great emphasis on getting measurements right the first time.
Thanks to available technology, we no longer have to take building measurements by hand. With laser scanning technology, we can improve both accuracy and efficiency for our finishing contractors and for our clients.
Getting Accurate, Efficient Results with Laser Technology
Using laser scanned point cloud technology, we can more efficiently capture the exact information we need when measuring existing structures for pre-fabricated finish material installation.
What is laser scanned point cloud technology? By using a high-quality laser scanner, we can record data points from all the surfaces of a building to create a 3D representation of the site with precise measurements. This data is captured in a computer, so we can more clearly see and refer to the building project from every angle. This gives our finishing contractors the detailed information they need to plan and execute installation.
It also allows us to send fewer individuals to sites to take measurements by hand. This matters more than ever during this pandemic season as we practice physical distancing for the health and safety of our contractors and our clients.
Precise Field Measuring Saves Time and Money
In finishing contracting, even a slight delay on one aspect of a project can impact the construction timeline. By using technology to more efficiently capture field measurements, we can move to the next stage of our project much more quickly than we could when taking measurements by hand.
Additionally, we're capturing more accurate data, which means a lower risk for error when we begin installing fiber cement paneling. This minimizes the chances of delays, allowing us to stay on track and on budget with project goals. That's a win-win for everyone!
If you're ready to take the next step in your project with a finishing contractor that puts detailed planning first, give us a call. We can discuss your needs and what Diversified Interiors can offer to help you reach your project goals.