In a season where job opportunities may seem scarce, there is still a high need for skilled laborers in construction. We want to help prepare you for successful construction careers with the Diversified Interiors' apprenticeship program.
Within the industry, taking part in an apprenticeship program is the first step in earning journeyman certification to qualify for work with many construction companies across the U.S. The apprenticeship allows you to integrate on-the-job training with classroom instruction to complete the required education and work hours for certification.
"We often give people jobs after completion of the program as well," said George Gonzalez "As apprenticeship sponsors, we're investing in their development, and we like to have them stay with us and apply their skills in a job with Diversified Interiors. It's an opportunity that benefits those in the apprenticeship program and our company."
Diversified Interiors wants to equip more individuals to provide high-quality finishing contractor work and become leaders in the industry, and it starts with the apprenticeship program.
What Is Diversified Interiors' Apprenticeship Program?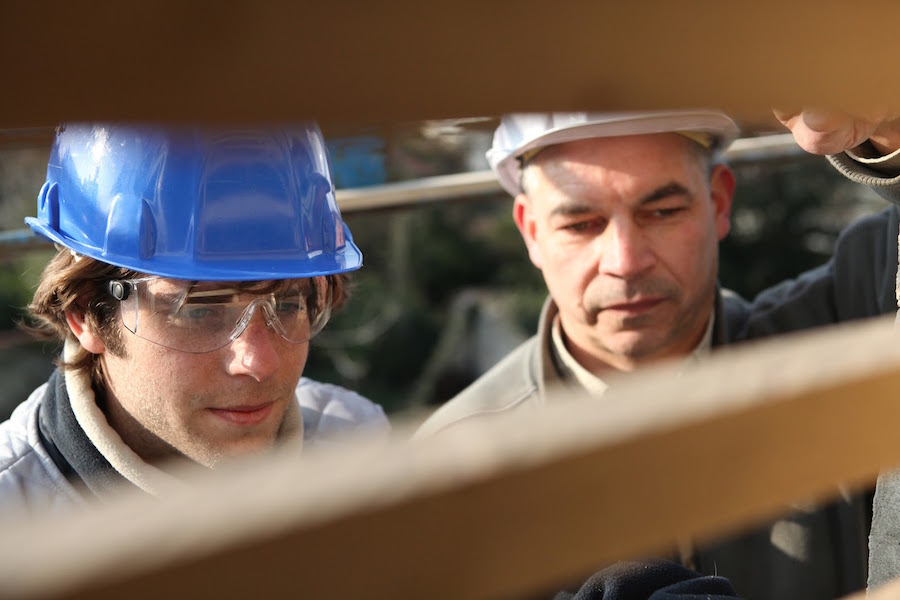 Through a combination of on-site work experience and course studies, the apprenticeship program helps you develop the specialized skills required for certification. The program is offered as part of the El Paso Association of Contractors apprenticeship program, which allows apprentices to focus on a specialty such as electrical, plumbing, HVAC, ironwork, carpentry, painting, drywall installation, taping, or cement masonry. As a finishing contractor, Diversified Interiors specializes in sponsoring apprentices who want to work in painting, drywall installation, or taping.
Even if school isn't your thing, the program is designed to support you in developing the skills and knowledge you need to take the next step in the industry and earn your journeyman's certificate.
What Are the Benefits of an Apprenticeship Program?
The apprenticeship program with Diversified Interiors equips you for specialized industry work, but there are many other benefits to completing it, including:
Receiving customized training based on industry standards.
Learning from construction professionals with years of experience.
Continuing to work and earn a salary as you learn.
Receiving certification that qualifies you for construction work anywhere in the U.S.
Becoming equipped for higher-paying jobs in the industry
Access to opportunities for job placement with Diversified Interiors following completion of your certification.
To date, Diversified Interiors has 38 registered apprentices working and learning within the business. Last year, 12 apprentices graduated from their respective programs and received their journeyman's certificates.
How Long Is the Program?
Depending on your chosen specialty, the full program may take between two and four years. For example, painters, tapers, and drywall applicators specialties require two-year programs. Pursuing carpentry, plumbing, HVAC, and electrical certifications may take three or four years.
The programs are taught in twelve-week sessions in the spring and fall. Classes take place two days a week in the evenings to accommodate your work schedule. Currently, classes are taking place through Zoom to minimize gatherings and protect the health of our apprentices.
When Can I Start the Apprenticeship Program?
We will be hosting apprenticeship programs throughout the year of 2021. View our start dates for upcoming sessions:
Spring program: February 22nd – May 13th.
Fall program: September 20th – December 9th.
As the Spring program has already started, new applicants are invited to apply for the upcoming Fall semester.
How Do I Apply for the Program?
To apply for the apprenticeship program with Diversified Interiors, you must:
Be employed by a company that is a member of the El Paso Association of Contractors (EPAC).
Complete an application with Diversified Interiors, available at our El Paso office.
For 21 years, Diversified Interiors has participated in the apprenticeship program to help more people become skilled contractors. If you're interested in being sponsored by Diversified Interiors for the apprenticeship program, contact us to learn more or stop by our El Paso office at 4750 Ripley Drive to pick up an application.
Pick up an application:
Contact us to learn more about the program and application process, or drop by our local office at 4750 Ripley Drive to pick up an application.