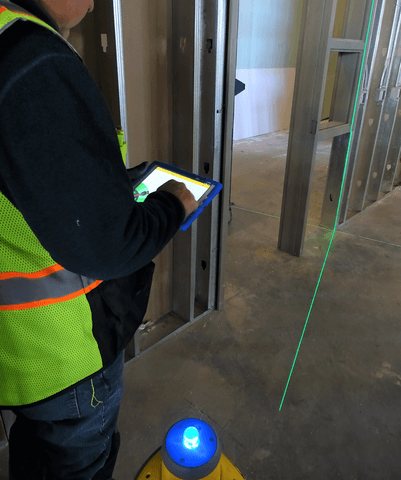 Diversified Interiors is committed to innovation and to using advanced technology to continually increase the quality of our performance as a premier finishing company.
With that drive for innovation in mind, we now utilize a cutting-edge technology known as a precision laser layout system for most of our interior and exterior framing layouts. In fact, Diversified Interiors is one of the few — if not the only — finishing company in town that uses a laser layout system.
How the laser layout system works
A laser layout system consists of two high-resolution line lasers and a control tablet. Each laser unit projects a laser beam, each of which creates a continuous line from floor to ceiling. The units are controlled by a proprietary application on the control tablet, which communicates with the lasers through a wireless Internet connection.
The layout crew prepares for layout by first coordinating two field-supplied control lines and two control points in the application. The first control point is at the intersection of the two control lines. The second control point is along one of the control lines, at least 20 to 30 feet away from the first control point. Once the control lines and control points have been coordinated, the layout crew can then begin putting the points they want to locate into the software.
When the layout crew is ready to begin locating points, a member of the crew touches a point in the application, causing the lasers to intersect directly where the point should be. Another member of the crew marks the point.
Why you should hire a premier finishing contractor that uses a laser layout system
Here are a few of the reasons why the next time you hire an interior finishing company, you'll want to choose one that takes advantage of the accuracy and efficiency of a laser layout system:
A laser layout system like the one we use at Diversified Interiors is accurate within an eighth of an inch.
It is especially helpful with complex layouts, such as those that include curves, arches, circles, etc.
It can cut interior layout time in half. The lasers locate a point in five seconds or less, meaning that a floor can be laid out in hours instead of days. And we all know that saving time means saving money.
The application is intuitive and easy to use. Almost anyone can operate the system and do a complex layout with a laser layout system.
Our layout crews are much more confident and efficient in their work. And they don't have to spend quite as much time on their knees!
It's a game-changer. It brings interior layout to the next level.
If you're ready to bring the interior layout of your next commercial building project to the next level with a laser layout system, contact Diversified Interiors today. We're confident you won't find anyone else who can complete an interior layout as accurately and efficiently as we can.