When it comes to painting the interior of your new construction project, choosing a paint color isn't the only important decision you have to make. Choosing the right interior paint finish is just as crucial for keeping clients happy and avoiding costly re-dos.
About paint finishes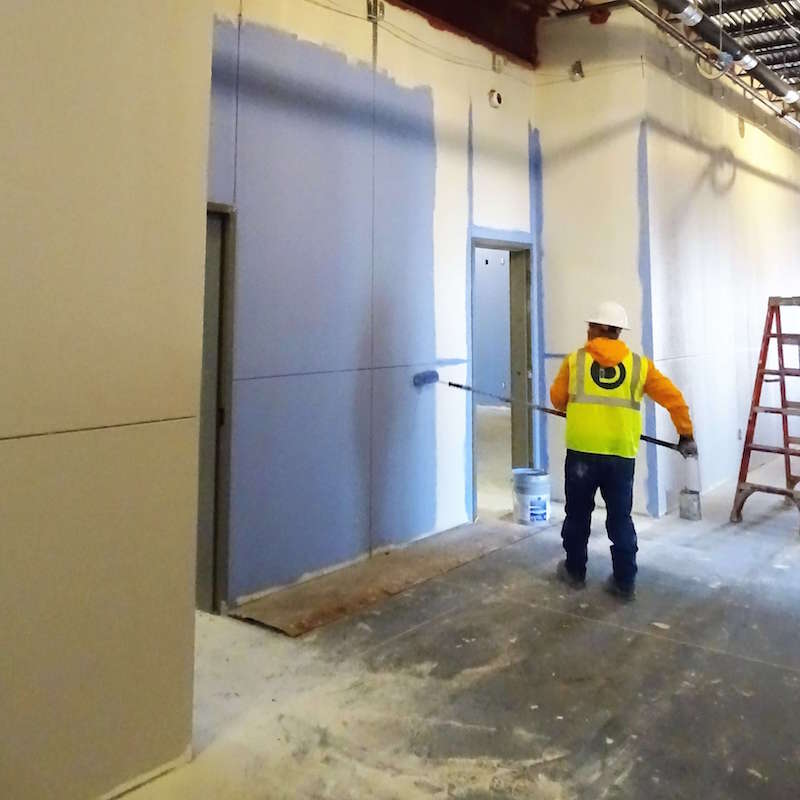 Paint finishes range on a scale from flat to glossy, with flat finishes having the least amount of sheen and glossy finishes having the most. In the middle of the scale are eggshell, satin, and semi-gloss finishes. The higher the sheen, the more light is reflected by the surface of the paint. While shinier paints are typically more durable and easier to clean than those that are less shiny, the fact that they reflect more light means that they also reveal more surface imperfections.
When selecting an interior paint finish, you want to consider how you want the space to look and feel, what the space will be used for, and who will be using the space.
Flat or matte finishes
Flat or matte paint finishes are affordable, easy to apply, and have a pristine, sophisticated look. Since they absorb light, they are good for concealing surface imperfections. On the flip side, however, flat or matte finishes absorb dirt and are next to impossible to clean. Scrubbing walls that have been painted with flat or matte finishes will damage or even remove the paint. Some manufacturers have developed specialty flat-finish paints that can withstand scrubbing. These specialty paints are expensive, but they can be a good option if you want the rich look of a flat finish without sacrificing the easy-upkeep of a higher-sheen finish.
Best for: Ceilings, executive offices, board rooms, and low-traffic areas that don't see a lot of wear and tear.
Eggshell finishes
Eggshell paint finishes are slightly more durable than flat or matte finishes, but they are still low on shine. They have an elegant, smooth finish that tends to resist stains and scuff marks.
Best for: Offices, meeting rooms, and other relatively low-traffic areas.
Satin finishes
Satin paint finishes offer a good compromise on shine and durability since they are in the middle of the scale. They have a soft sheen and a refined finish that can be wiped clean. Many satin finishes can be used on trim as well. With minimal reflection and decent durability, satin finishes are the most common interior paint finish for commercial projects.
Best for: Just about any area.
Semi-gloss finishes
Semi-gloss paint finishes are easy to clean, resist stains, and are highly durable. Since they show surface flaws, it's imperative that they only be applied to very smooth surfaces. While adding sheen to paint finishes adds cost, using a semi-gloss finish in high-traffic areas can be a good investment.
Best for: Kitchens, bathrooms, classrooms, hallways, lobbies, and other high-traffic areas that get a lot of wear and tear.
Gloss finishes
Gloss paint finishes are generally reserved for woodwork like trim and doors. They offer superior resistance to moisture. Like semi-gloss finishes, they require a well-prepped surface since they reveal imperfections.
Best for: Trim, doors, cabinets, baseboards, decorative molding, and high-traffic areas such as hallways and lobbies.
Additional considerations to keep in mind
If the finish you want falls somewhere between two styles, you can mix them together to find a finish that best suits your needs.
Applying primer paint will help even out the painting surface. The more sheen you have in your finish, the more important it is to have a smooth surface.
To ensure a high-quality, long-lasting, professional paint job, consider hiring an interior finishing contractor like Diversified Interiors.
For 36 years, Diversified Interiors has provided top-quality finishing work on commercial buildings, primarily serving the El Paso, Texas, and Phoenix, Arizona areas, with projects also extending into California, Nevada, and New Mexico. Contact us today to discuss your next interior commercial painting project.