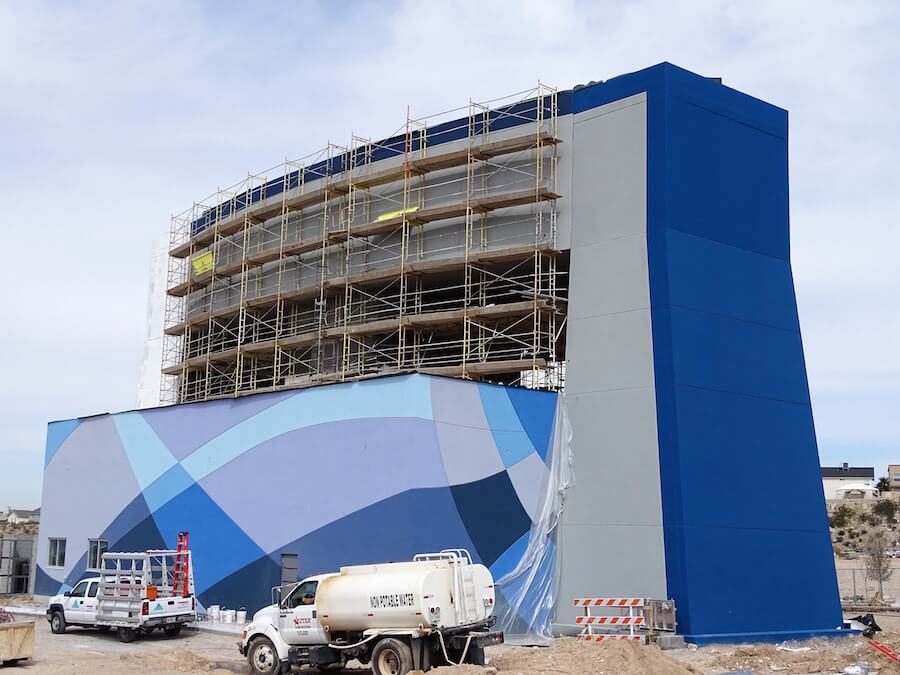 Humans have been using scaffolding for as least as long as we have been building structures. In fact, scaffolding may have even preceded buildings.
While it's believed that humans didn't start building structures until 11,000 years ago, the oldest evidence we have of humans using scaffolding is from 17,000 years ago. Sockets in the walls surrounding the paleolithic paintings that line the caves of Lascaux in Montignac, France, suggest that scaffolding was used to support artists as they painted the ceiling.
But while the paintings at Lascaux remain, the scaffolding does not. And while much has changed over the last 17,000 years, the impermanence of scaffolding remains the same — it's up and down so quickly that most people never even notice it.
A (mostly) subtle artform
Though it typically goes unnoticed, scaffolding is an art unto itself.
And while scaffolding is usually a subtle artform appreciated by few, a couple recent examples are anything but.
Take, for example, the scaffolding designed by architect Michael Graves for the restoration of the Washington Monument from 1999–2000. Graves used semi-transparent blue mesh to exaggerate the pattern of the monument's stone exterior, giving it a lighthearted feel in a city dominated by heavy, neoclassical architecture.
It was so popular that when the monument had to be restored again after an earthquake in 2011, the scaffolding was reused. Some people liked it so much, they lobbied for it to remain — permanently. (To their dismay, it was taken down when the restoration was completed.)

Scaffolding yesterday and today
Scaffolding materials and methods have changed over the millenia, but the basic principle has not: scaffolding is a temporary structure used to support people and materials in the construction, repair, and demolition of buildings and other structures.
The three basic components of scaffolding are tubes, couplers, and boards. The materials used in early forms of scaffolding — such as those utilized by ancient civilizations in Greece, Egypt, and China — consisted of wood or bamboo secured with rope.
Rope couplers continued to be used until the early 20th century. During that time, modern-day scaffolding standards, practices, and processes were established by two men in Great Britain: David Palmer Jones and David Henry Jones.
David Palmer Jones is also responsible for inventing the "Universal Coupler" in 1919, which remains the industry-standard coupling to this day. Further developments in the 20th century led to the introduction of tubular steel pipes, which replaced timber poles. With these developments came increases in the structural stability of scaffolding.
The important role scaffolding plays in Diversified's construction
Quality scaffolding is a key element of every building project. Scaffolding ensures that workers can navigate around the building site safely while giving them access to areas of the site that would be difficult or impossible to reach without it. Scaffolding also provides a certain degree of support for the structure itself while it's under construction.
As an added benefit, scaffolding provides a solid, level working platform that can accommodate multiple workers at once. This helps in ensuring timely completion of the project.
Where to find quality scaffolding
At Diversified Interiors, we build quality scaffolding systems that enable our crews to do their work safely and efficiently. And even though it's possible that only a few people will ever notice our scaffolding, we take pride in building it to our exacting standards.
If you're looking for a contractor whose building projects are rivaled only by their high-quality scaffolding, look no further. Contact us today.