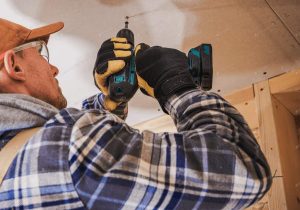 Did you know that there are several types of contractors that might work on a construction project from start to finish? You might be most familiar with the term general contractors, but depending on the construction project and stage of that project, contractors with specific expertise may be called in, such as remodeling contractors and finishing contractors.
At Diversified Interiors in El Paso, Texas, we focus primarily on finishing work. What is a finishing company? While a general contractor oversees the full construction project from beginning to end, a finishing contractor makes sure the final components that you see on a building come together well.
To discover what type of company you might need, learn more about the distinctions between each type and what a finishing contractor brings to the table.
Understanding the Types of Contracting Work
When choosing contractors in El Paso, knowing the type of company you need starts with understanding the differences between each role and what they do. Not every contractor has the necessary skills for all areas of construction, so it's important to get to know your specialists.
General Contractor — Oversees every aspect of the day-to-day work on a construction project throughout the span of the project.
Remodeling Contractor —- Focuses on taking an existing building and retrofitting it to a new design. These contractors specialize in remodeling.
Finishing Contractor —- Focuses on the final elements of a construction project that bring a project to completion.
Additionally, many subcontractors use their expertise to provide work in specific areas, such as electrical, carpentry, drywall, painting, and more. A finishing contractor or company focuses on the subcontracting specialties needed at the latter end of a project to bring it to completion, such as drywall and painting.
Think about it this way — when you go to a restaurant, you expect that the food used was grown by experts in farming, and the meal served to you was prepared and plated by a chef skilled in cooking and presenting food. Each plays a specific role in ensuring you receive a quality, delicious meal. In construction, contractors play specific roles to ensure a building project is completed well, is up to code, and meets design expectations.
What Is a Finishing Company?
A finishing company brings the expertise necessary to complete all the finishing steps of a construction project, from insulation and drywall to painting and more. Diversified Interiors in El Paso, Texas, is the largest commercial finishing contractor in the region. Our team of subcontractors are experts in completing the final components of commercial building projects, providing quality work that stays on track and on budget.
We serve as a one-stop shop for all your finishing needs so that you don't have to hire multiple contractors. This includes framing, gyp board, EIFS/stucco, specialty ceilings, acoustical ceilings, painting, spray-foam insulation, wall coverings, Levelrock, fiber cement panels, and thin shell concrete panels. See how our work successfully contributed to completing numerous building projects in 2020.
Why Hire an El Paso Finishing Contractor?
With 40 years of experience in the region, Diversified Interiors maintains a strong reputation for our commitment to excellence and providing high-quality work for each project through to completion. And if there's a service you need that we don't offer, we'll provide recommendations based on our longstanding relationships in the field. In addition to finishing work, we have completed several remodeling projects.
If you have a project that needs expert finishing work, learn more about what to look for in a finishing company. Then give us a call to schedule an appointment. We would love to hear more about your project needs.