When it comes to construction schedules, you don't want to find yourself flying by the seat of your pants, making last minute adjustments or changes to the plans and schedule. It can lead to delayed projects and a greater risk for errors. For any contractor who has found themselves in these situations, you know it tends to create more stress than is necessary!
Construction rarely goes precisely according to plan, so why make it harder? How you approach construction project planning and scheduling is an essential part of ensuring a project goes as smoothly as possible. In fact, scheduling can make or break a project. Stephen Covey, author of The 7 Habits of Highly Effective People, says to begin with the end in mind. That's how we strive to approach each project here at Diversified Interiors.
The Benefits of Construction Planning
Whether you are a general contractor or you're selecting one, the first step of your project is setting a clear strategy. When you begin with the end in mind and create a plan accordingly, you're more likely to:
Stay on track with project goals
Ensure you have the resources you need
Maintain quality control
Stay on budget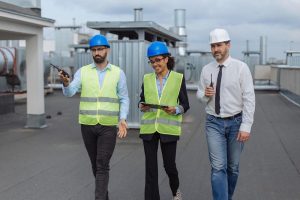 The result is a more efficient and productive construction process. How you approach construction project planning and scheduling impacts every stage and can even help you adapt more quickly when unanticipated problems occur. At Diversified Interiors, we ensure each part of our plan has room for flexibility so that we can adjust as needed to provide alternative solutions when necessary.
Asking the following questions at the outset of any construction project is essential to creating an achievable, efficient plan and schedule:
What are the project goals?
With construction project planning and scheduling, it's important that your first step begins with carefully reviewing the project's goals. Are they achievable within the allotted timeframe and budget? Complete a risk mitigation assessment to identify any potential challenge areas within the project that may need more time or resources to complete.
What resources are needed to complete this project?
Make a comprehensive list of all resources required to complete the project, including material, employees, and equipment. Take into consideration your risk mitigation assessment and where additional resources may be required. It's also important to consider how you will track resources throughout the project.
What is the project's schedule?
Another key in successful construction project planning and scheduling is in answering the question, Is the schedule realistic? Do you have a cushion for any potential delays? The project manager should oversee the full scope of the project schedule. Within that schedule, team members need a clear plan for the individual phases of the project. Avoid being overly optimistic about your project schedule. It's better to plan for the most amount of time and finish early if you're able.
How will you monitor the project's progress?
Your construction planning needs to include a plan for monitoring how progress is going and what the steps are if you need to adapt. At Diversified, we strive to monitor every stage of the project process carefully so that we can pivot quickly to change plans, gather additional resources, or adjust schedules.
The most important part of construction project planning and scheduling is communication, from the client to the general contractor and project manager to each employee working on the project. Without clear, streamlined communication, it's easy to miss a step or miss updating a team member about a project change.
If you're ready to make a construction project plan with Diversified Interiors, schedule an appointment today. We look forward to helping each of our clients achieve their project goals while making the construction process as smooth as possible.